This Youth Mental Health First Aid Workshop is for all Maryvale Parents and Community members!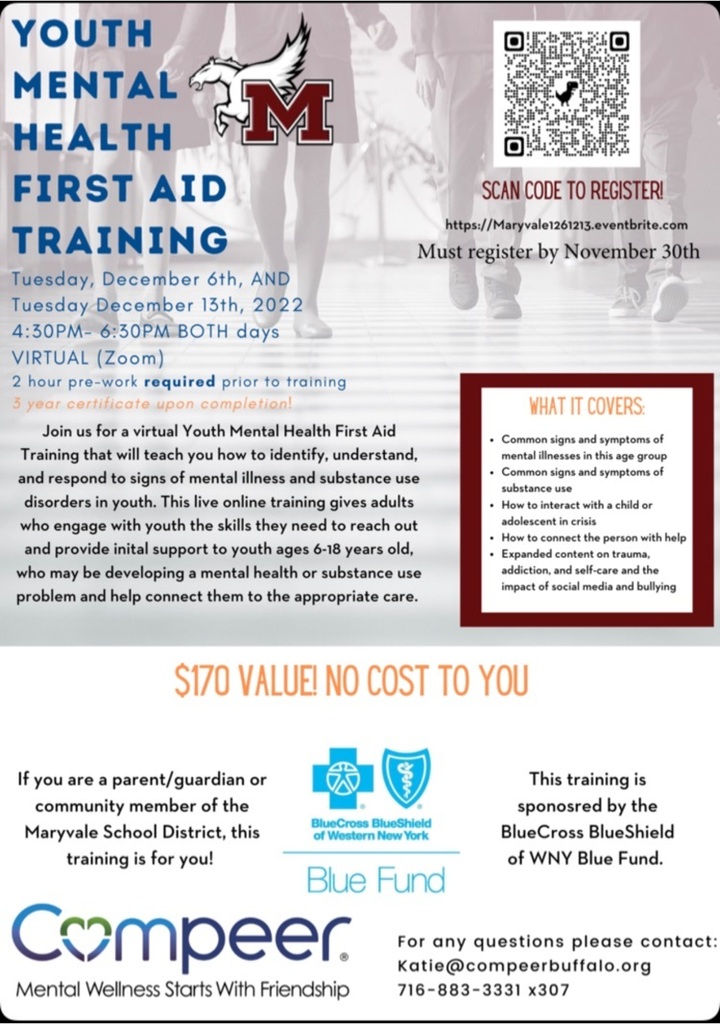 Good Afternoon Maryvale Community, Due to the impending storm, Maryvale Schools will be closed tomorrow (Friday, November 18, 2022). Stay safe, Joseph D'Angelo Superintendent

Maryvale Intermediate School honored Veterans this morning in a moving and wonderful Veteran's Day ceremony. We are grateful for all great service men and women, and especially those connected to our Maryvale community, for their bravery and selflessness.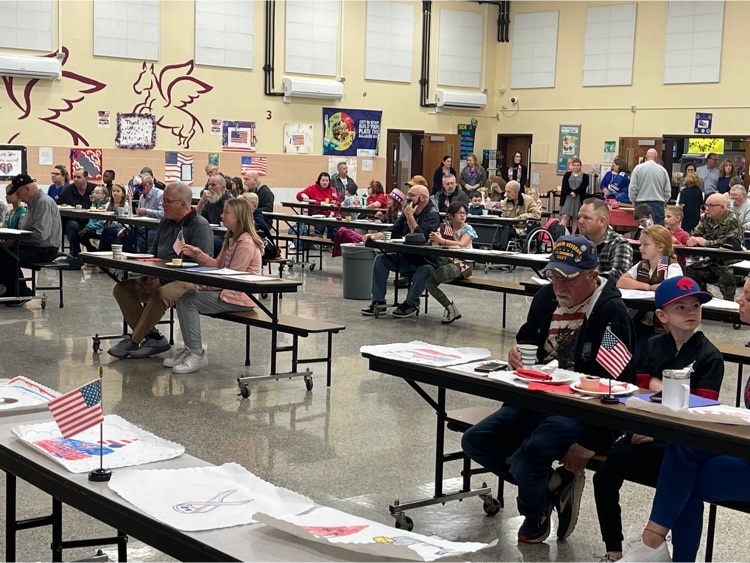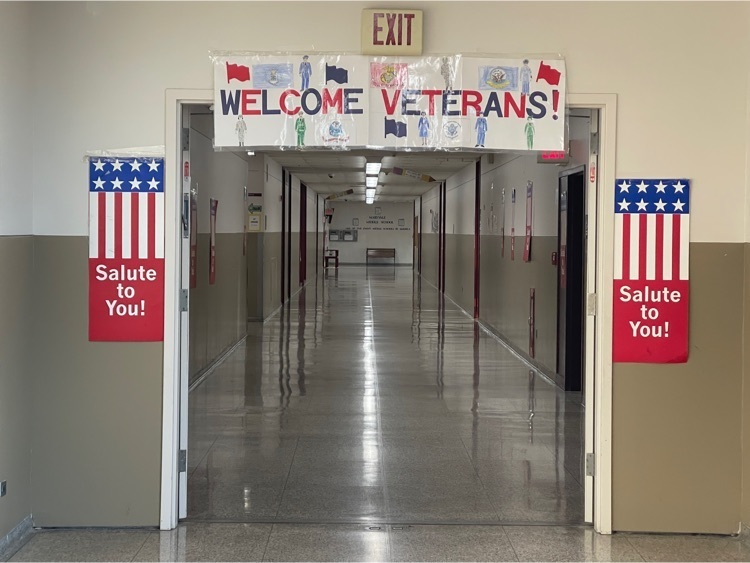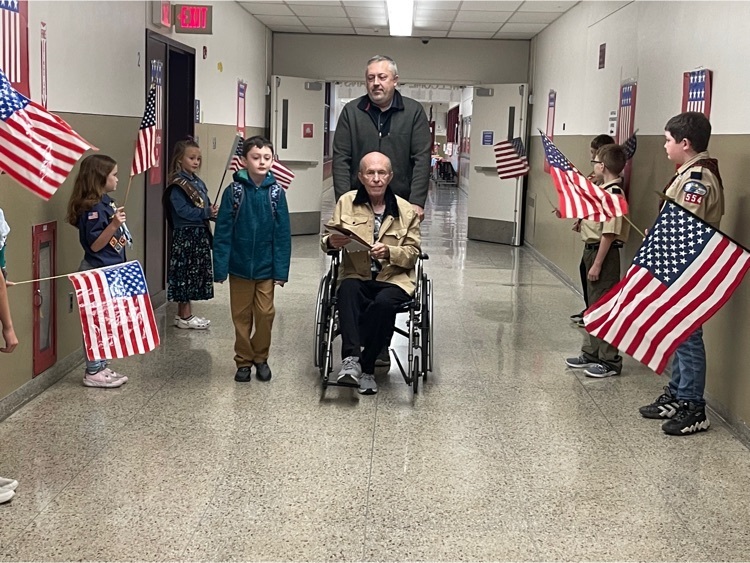 Varsity Football will be hosting Pioneer tonight for a semi-final game and a chance to play at Highmark Stadium next week. Kickoff is scheduled for a 7pm. You can purchase tickets to tonight's playoff game for $7 at this link:
https://gofan.co/app/events/759708?schoolId=NYSHSAAVI
or purchase your tickets at the door for $10
Good luck today to the following teams and athletes: I. Thauer will compete in the Sectional Gymnastic competition at Clarence HS. Varsity Cross Country competes in the sectional competition at Alden HS. Varsity Football host Pioneer in a sectional playoff game at 7pm.

Please see the Fall newsletter for our Flyer's Fresh Market!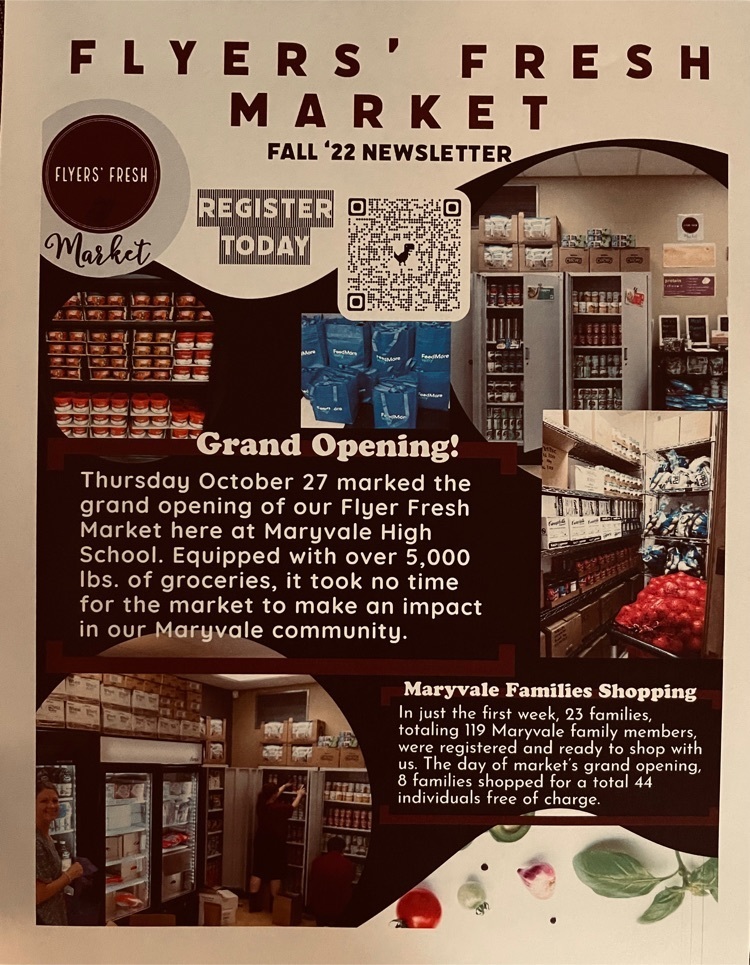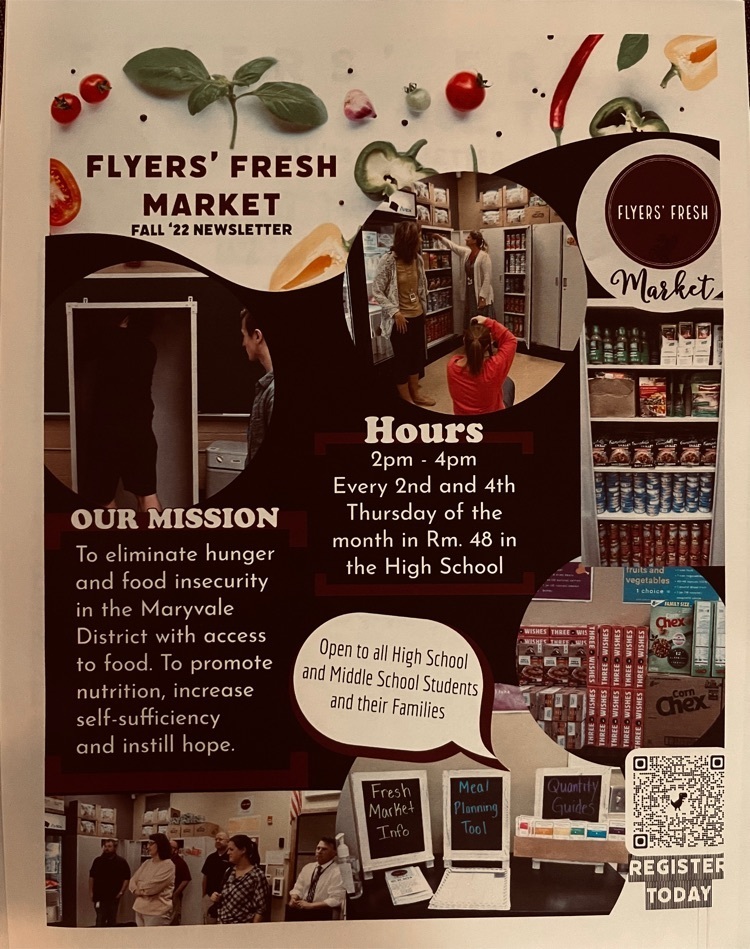 Mr. William Fichtner spoke to our MS and HS Drama and Music students today. The topics ranged from his time at Maryvale to acting and directing philosophy. He provided an afternoon no one will ever forget and we appreciate him and his time!! Thank you, Mr. Fichtner!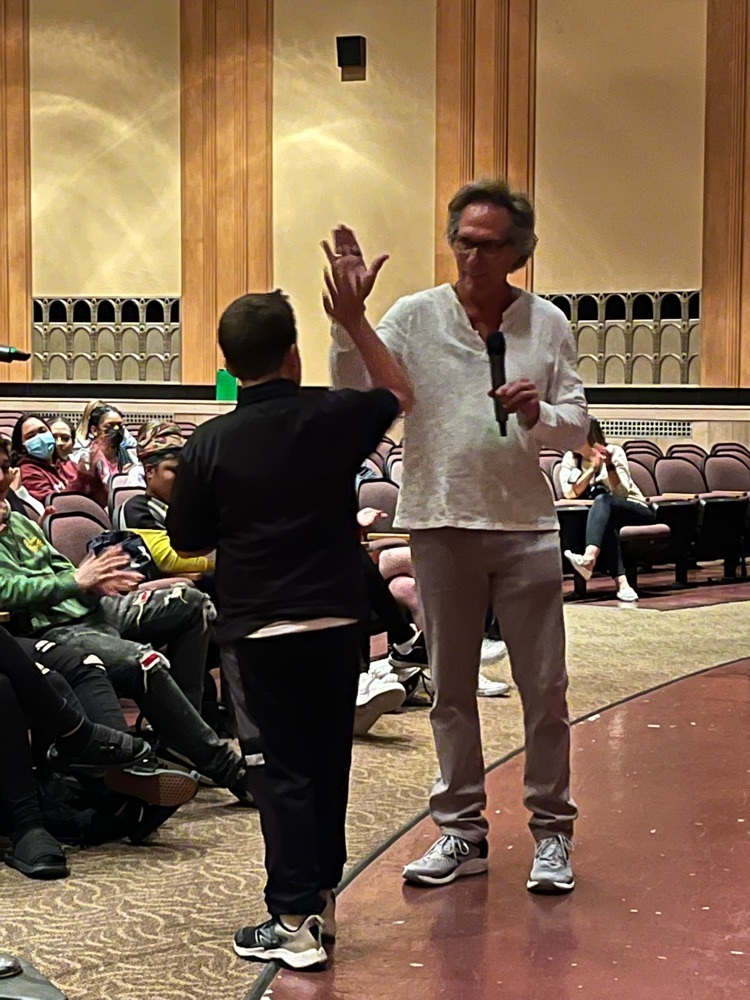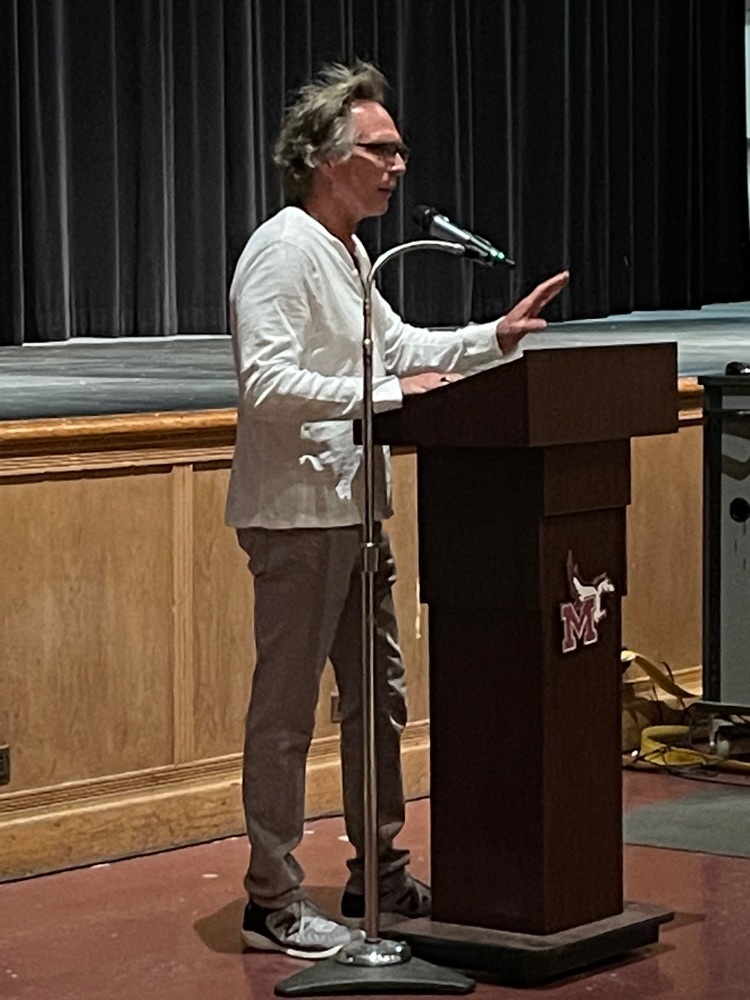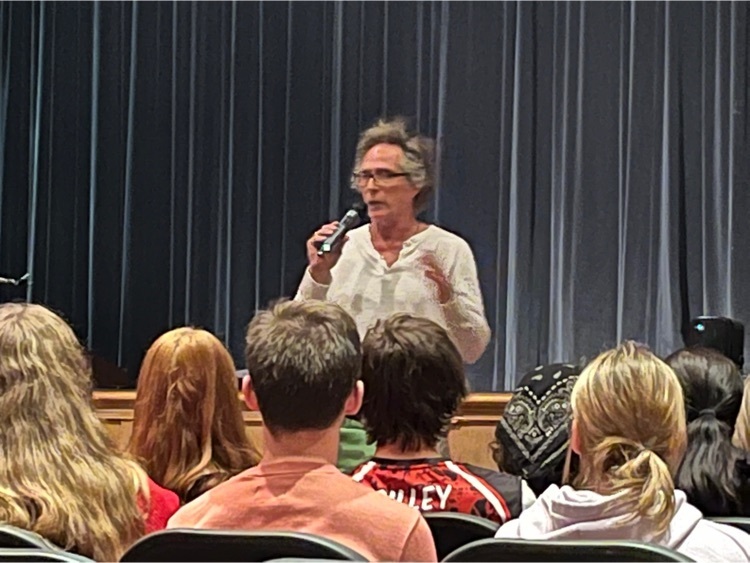 Dear Maryvale Community, The High School administration received a report during dismissal today that a student was in possession of what appeared to be a weapon. Upon initial investigation, there was an Airsoft found on a bus after a Middle/High School run. Officer Scapillato took possession of the Airsoft and a full investigation has already begun. We take these matters very seriously and we will not tolerate anything that could pose a potential risk to students and staff. I am informing you of this so that you know the facts as we know them right now and also so that rumors do not start to circulate. Please know that we are always vigilant and we will always fully investigate reports brought to us by students, staff and parents. We need you to be vigilant as well. So, as a reminder, if anyone is aware of information that could lead to any type of danger to students, staff or our school community, we need you to tell a trusted adult at school or any school administrator so that we can follow up to ensure the safety of our school community. Thank you, Joseph D'Angelo Superintendent

Dear Maryvale Family, Our Varsity Football team has a home playoff game this Thursday evening (10/27/22) at 6PM against Burgard. Because it is a playoff game, Section VI is responsible for selling tickets. Fans can pay $10 at the door or pre-buy digital tickets for $7 at this link:
https://gofan.co/app/events/748915?schoolId=NYSHSAAVI

Congrats to Flyers Head Coach Nick Todaro on earning Buffalo Bills-ADPRO Sports High School Coach of the Week honors!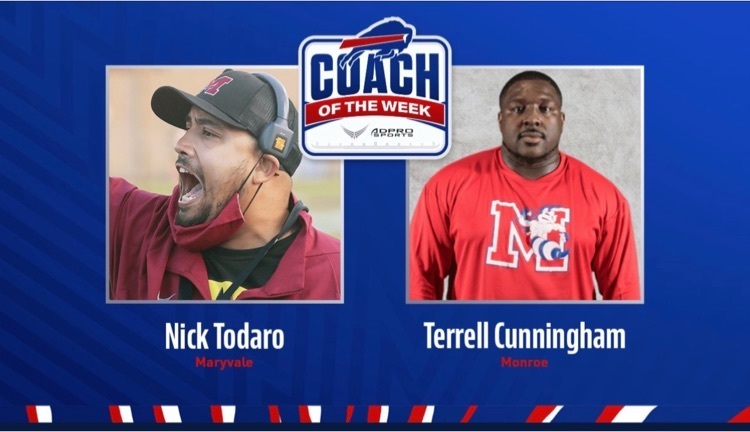 The Flyers' Fresh Market is coming soon!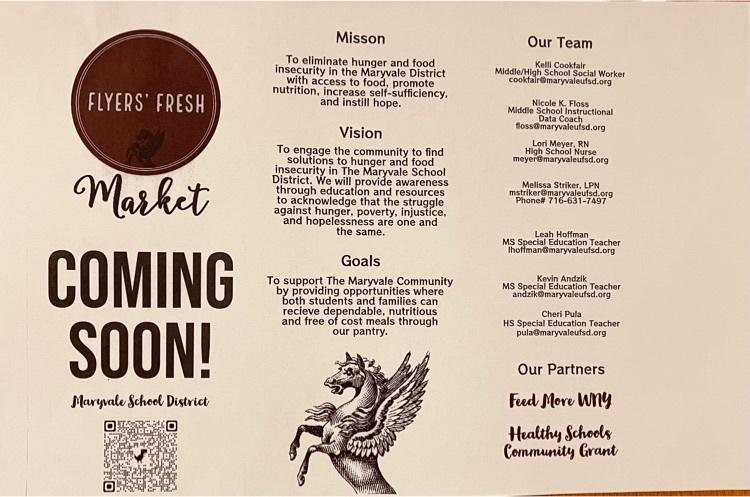 Our brand new stage is being installed in the Fichtner PAC at the High School!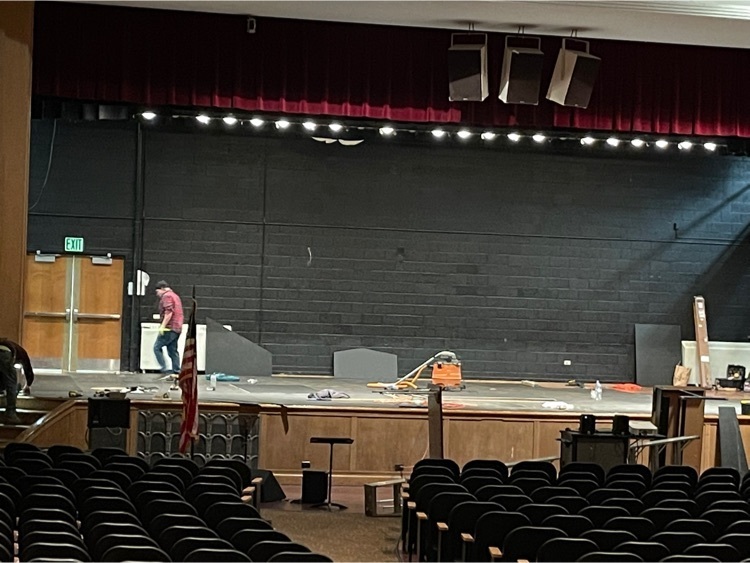 Please see this message from our PTO: ATTENTION! CALENDAR CANCELATIONS!! Monster Glow Bash is cancelled District Craft Fair was never being planned - that was a misprint from printers We are very sorry!! Please stay tuned for other fun and exciting events by your PTOs!!

Please this this important information about Friday, October 7th, 2022.

Dear Maryvale Community, Throughout the day today, both the High School Principal and I have been contacted by concerned parents telling us that they heard about a threat made to the school and that they also heard the student who made the threat was still in school. As a parent myself, I understand the concerns and appreciate the calls. However, to the extent that I am able to, I must set the record straight and not allow rumors to fester and untruths to spread, because the rumors do not reflect the facts.  Neither the Maryvale Administration nor the Cheektowaga Police Department (CPD) would allow a student who made a credible threat to remain in school.   By law, we cannot share anything related to a student's discipline or specific situation, so I cannot disclose anything about what actually occurred. But the High School administration and the CPD fully investigated the situation referenced in this rumor and handled it appropriately.  Again: The rumors do not reflect the facts in this situation. All situations of this nature are fully investigated jointly with the CPD to ensure that our school community is as safe as possible.  Often before we even get to the point of needing to investigate, we provide multiple levels of social and emotional support to students who exhibit the need for mental health services, especially if they are depressed or are showing any warning signs for the propensity to commit violent acts. Since I have all the facts of the incident that the rumors reference, including all of the steps taken by the HS administration and the CPD to investigate, I am confident that they made the right decision in this matter and that there is no evidence to suggest that there is a danger to our school community. We will continue to fully investigate any and all situations that have the potential to endanger our school community and then act on them appropriately so that our students, staff and community are as safe as possible. Sincerely, Joseph D'Angelo, Superintendent

Dear Maryvale Community, We have enjoyed Flyer athletics in Maryvale for a long time, as both a fabric of our community and a source of pride. We have a strong tradition of cheering on our team and displaying sportsmanship as athletes, coaches, and spectators. We will not allow anything to change that or to disrupt the enjoyment our athletes bring to our school community. Going forward the following procedures will be in place for all ticketed Maryvale athletic competitions: -All Maryvale High School students must present their current and valid school ID to gain entry to the event. No ID means no entry. -All other Maryvale students are welcome to attend ticketed events but must be accompanied by an adult for the duration of the event. If a Middle or Elementary student is found without an adult, they will be required to leave the facility. As a reminder: -No backpacks, coolers, bikes, skateboards, Frisbees or balls are permitted inside the stadium or gymnasium. -No animals allowed, except service animals. -No re-entry to the event. Maryvale reserves the right to dismiss any person(s) who disrupt any event. Sincerely, Joseph D'Angelo, Superintendent Tim Klimtzak, Athletic Director Michael Scapillato, School Resource Officer

Dear Maryvale Community, At approximately 12:40pm, we received notification from the Cheektowaga Police that a suspicious individual was out and about somewhere near the main campus. We immediately brought all students and staff indoors and put all buildings into lockout while the CPD handled the issue. When the CPD got the individual in custody, we released the lockout and resumed normal operations. The lockout lasted until approximately 10 minutes until 12:50pm. As a reminder: In our Emergency Response protocols, a lockout means that no one is permitted to enter or exit any building, but all other operations, such as classes, run normally.

Congrats to our Lady Flyers on defending the title at the Crabapple Classic. Big pulls from S.Brzykcy and A.Chelpinski in the 100 IM; K.McNeill in the 100 Fly; A.Lowery in the 100 Free; and S.Filighera in the 100 Back. Great work, team!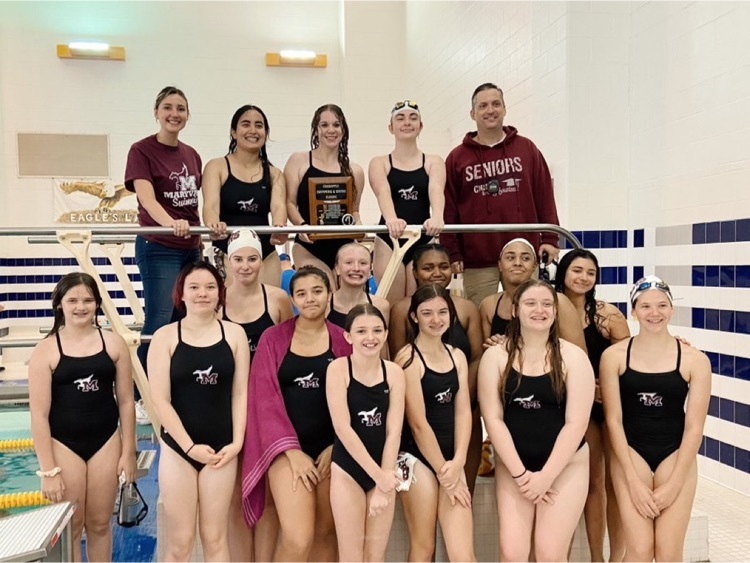 This Buffalo was painted in 2002 and donated to our school by the PTO. The garden around it was made possible with a fantastic Eagle Scout project. The Buffalo has graced the middle of our campus, but is now showing signs of age. Paint is bubbling and peeling off. We would like to revitalize it and potentially reimagine it but before we do anything, we'd like to talk with any of the students or PTO parents who were involved with the original project in 2002. If you, or anyone you know were involved in painting and donating this Buffalo in 2002, please give Mr. Swenson a call at the High School at 716-631-7409.