​Dear Maryvale Community, The Color Run is Back! Register & reach your required fundraising level by April 10th to guarantee a t-shirt! Below is the packet that will be given to students this week. Race Day: Friday, May 5, 2023 Check-in Time: 5pm, Race Time: 6pm Location: Cheektowaga Town Park Registration & Fundraising Deadline: April 10, 2023 (to guarantee T-shirt) We are excited to bring our four buildings of Maryvale students back together for a fun run, all while raising funds for the students in each building to be used for field trips and student activities! Registration: We are offering the option to register as an individual or family. Your individual fundraising website will be set up once we receive your registration. Click this link for registration details:
https://5il.co/1rjdq​
Individual Registration: $5 – Includes Registration Fee and 5 Raffle Tickets $12- Includes Registration Fee, 1 Color Packet & 10 Raffle Tickets $18- Includes Registration Fee, T-shirt, 1 Color Packet & 10 Raffle Tickets **Each additional $25 raised will get you 5 more Raffle tickets Family Registration: Family of 2: $35- Includes Registration Fee, T-shirt, 2 Color Packets, 15 Raffle Tickets per family Family of 3: $45- Includes Registration Fee, T-shirt, 3 Color Packets, 15 Raffle Tickets per family Family of 4: $60 Includes Registration Fee, T-shirt, 4 Color Packets, & 15 Raffle Tickets per family Family of 5: $70 Includes Registration Fee, T-shirt, 5 Color Packets, & 15 Raffle Tickets per family ** Each additional person add $15 *** Each additional $25 raised will get you 5 more Basket Raffle Tickets per family

Dear Maryvale Community, At approximately 1:25PM, we were notified by the Cheektowaga Police that they were searching for a suspect in the neighborhoods west of Union Road near the main campus. Out of an abundance of caution, we initiated a lockout of the Intermediate, Middle, and High Schools. A lockout means that all school operations run as normal inside the buildings, but no one is allowed in or out. The lockout was lifted at approximately, 1:50PM upon advice received from the Cheektowaga Police, Joseph D'Angelo Superintendent
Good luck to our Cheerleaders as they head to the NYSPHSAA Championships in Binghamton. GO FLYERS!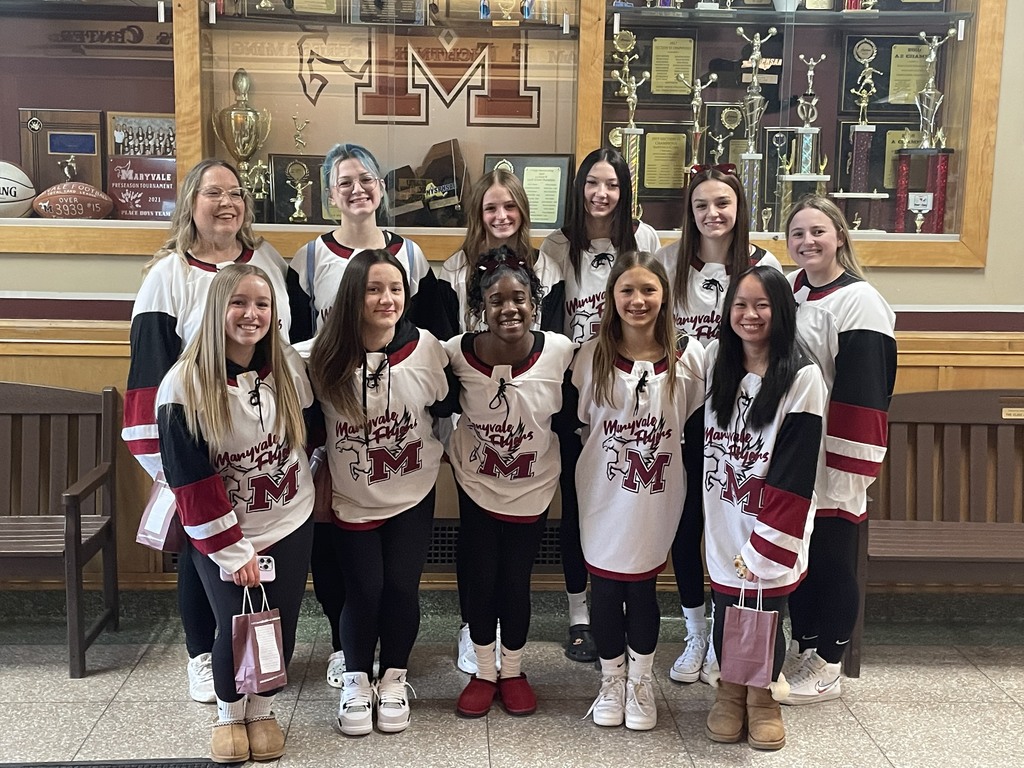 Maryvale PTO is holding a Meat Raffle!! Doors open at 6pm - First spin at 7pm $12 Presale/$15 at Door Includes: Beverages - Bring your favorite snacks! Also available - 50/50, Freezer Full of Meat Raffle, Lucky Card Game and other Basket Raffle and Big Ticket Items... 21 and OVER ONLY - ABSOLUTELY NO BYOB!!!! Tables of 8 or 10 available Email/Call/Text Mary Baier - 716-572-3609 -
maryvaleschoolspto@gmail.com

Greetings Maryvale UFSD Planetarium enthusiasts. As a reminder, registration our Winter 2023 planetarium short courses/star shows are underway NOW! To register, please contact Michele Caccard at (716) 631-7474 or simply email her at
caccard@maryvaleufsd.org
for more information. The followings three short courses have been approved: 1) Face of Earth: A look at the planet from the International Space Station, Tuesday, January 24 & 31, 2023. 2) Planet Nine or Not? Tuesday, February 14 & 21, 2023 and 3) The Skies of Spring: Peering into Intergalactic Space on Tuesday, March 7 & 14, 2023. More astronomy classes to come in the near future!
Congratulations Justus and Dezmin!!!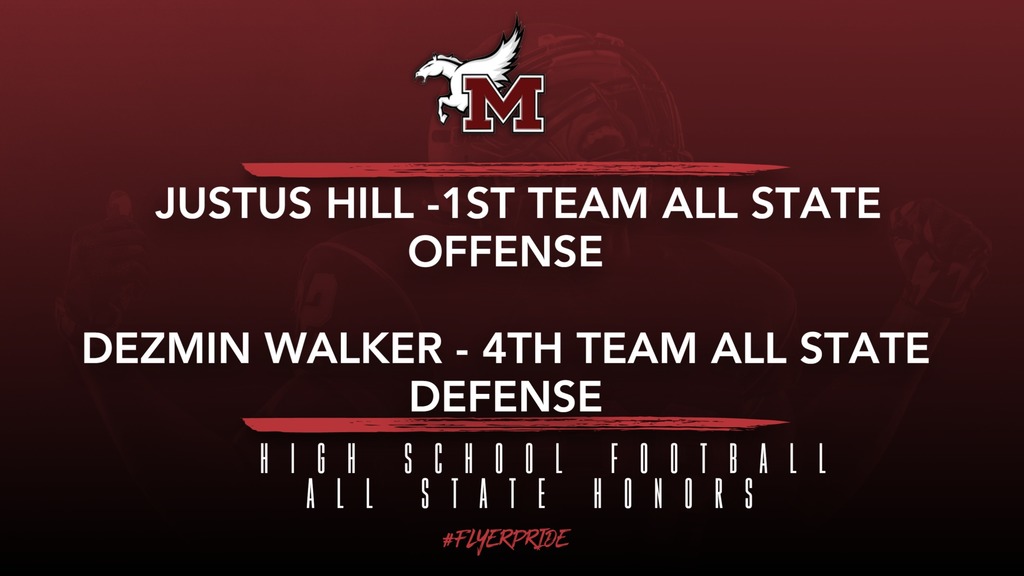 We would like to give a very appreciative "Thank you" to our Director of Buildings and Grounds, Charlie Milne and our entire Buildings and Grounds staff for their tireless work in the aftermath of the Blizzard. If you saw the state of the main and Primary campuses, you would understand what these folks did to clear the snow and to first make our properties passable and then ultimately useable. We appreciate you and your dedication to the kids and our district!

Reminder that at all ticketed sporting contest middle school students need to be accompanied by an adult for the duration of the event. There will be a $1 admission for all Varsity and JV basketball games.

This Youth Mental Health First Aid Workshop is for all Maryvale Parents and Community members!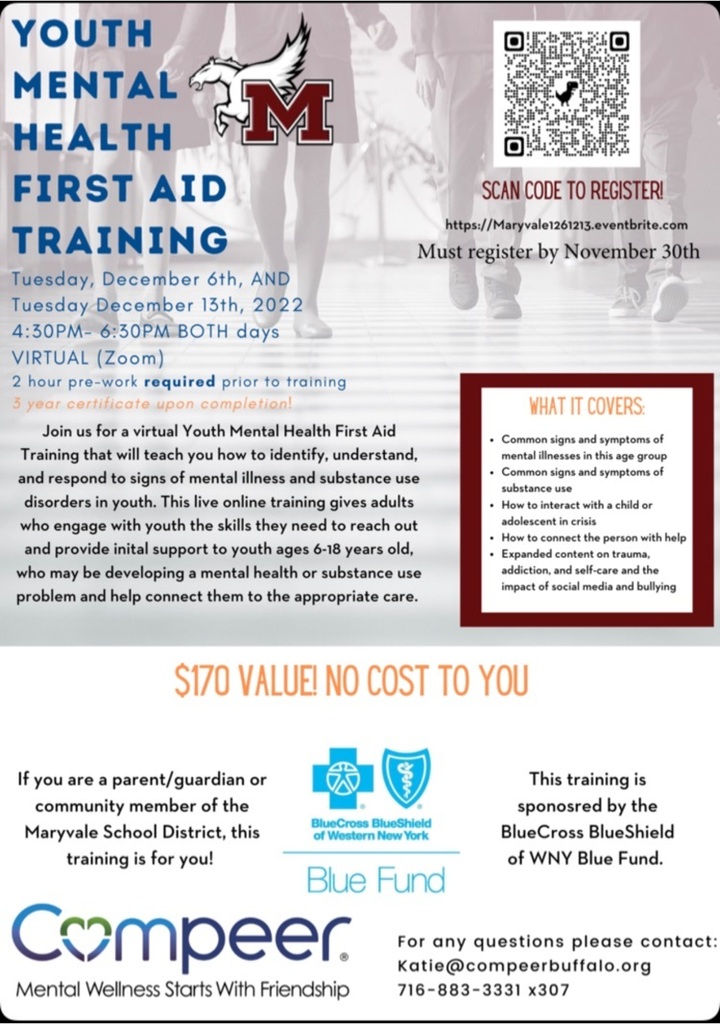 Good Afternoon Maryvale Community, Due to the impending storm, Maryvale Schools will be closed tomorrow (Friday, November 18, 2022). Stay safe, Joseph D'Angelo Superintendent

Maryvale Intermediate School honored Veterans this morning in a moving and wonderful Veteran's Day ceremony. We are grateful for all great service men and women, and especially those connected to our Maryvale community, for their bravery and selflessness.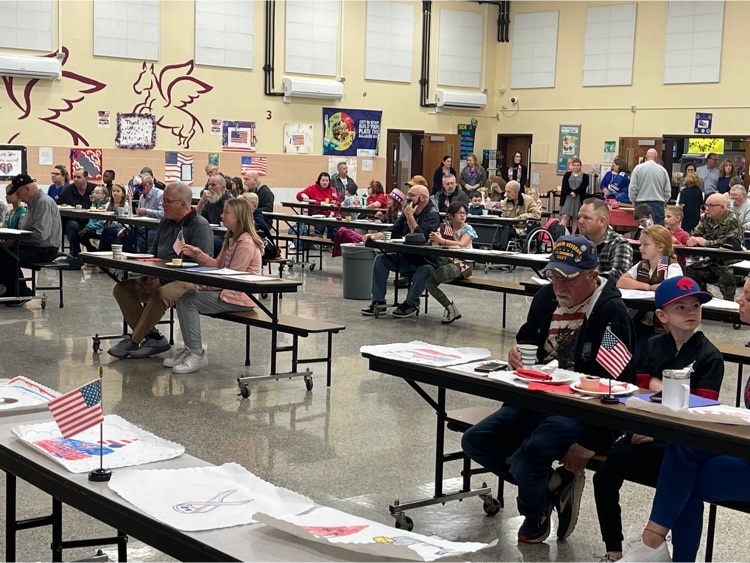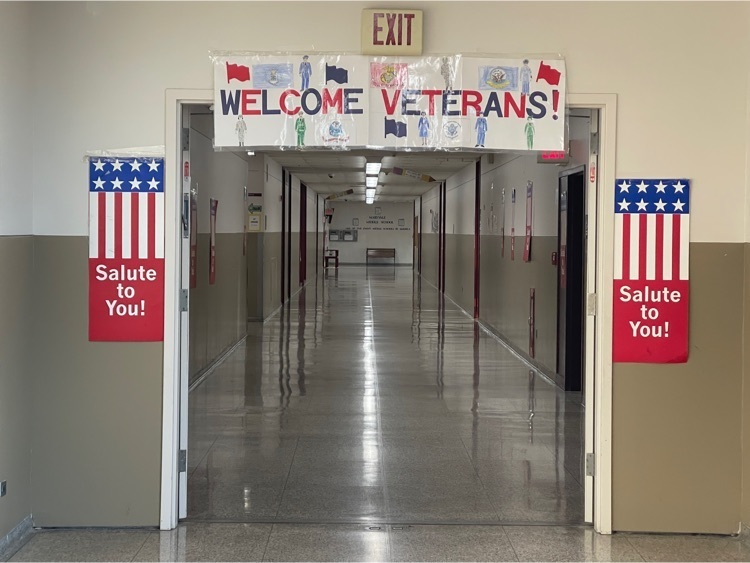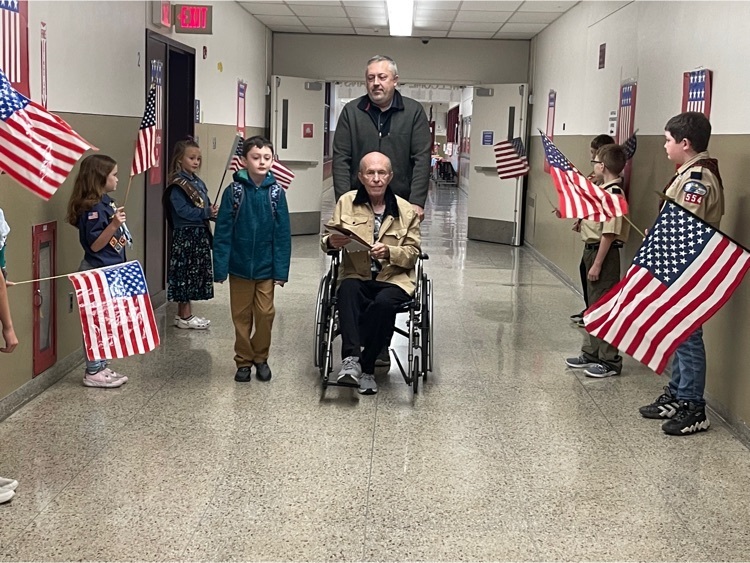 Varsity Football will be hosting Pioneer tonight for a semi-final game and a chance to play at Highmark Stadium next week. Kickoff is scheduled for a 7pm. You can purchase tickets to tonight's playoff game for $7 at this link:
https://gofan.co/app/events/759708?schoolId=NYSHSAAVI
or purchase your tickets at the door for $10
Good luck today to the following teams and athletes: I. Thauer will compete in the Sectional Gymnastic competition at Clarence HS. Varsity Cross Country competes in the sectional competition at Alden HS. Varsity Football host Pioneer in a sectional playoff game at 7pm.

Please see the Fall newsletter for our Flyer's Fresh Market!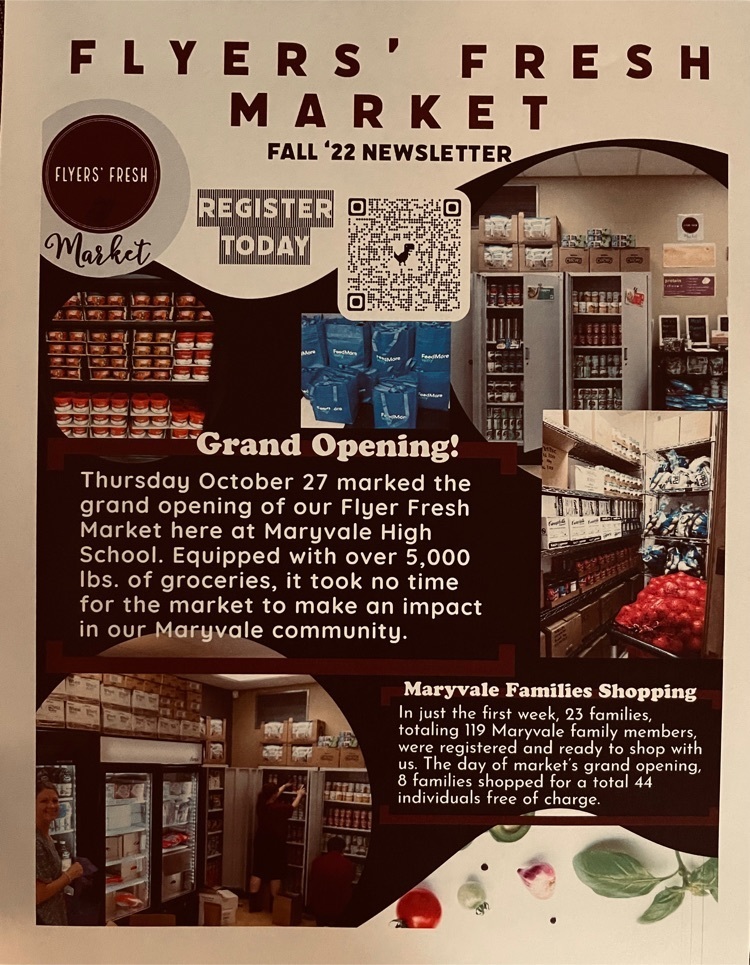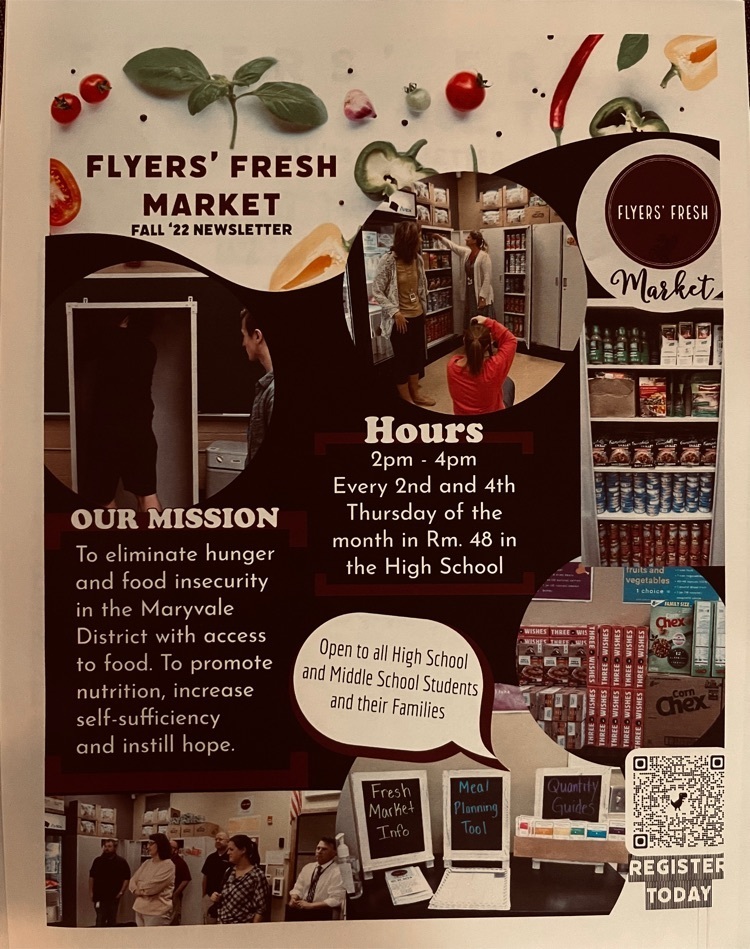 Mr. William Fichtner spoke to our MS and HS Drama and Music students today. The topics ranged from his time at Maryvale to acting and directing philosophy. He provided an afternoon no one will ever forget and we appreciate him and his time!! Thank you, Mr. Fichtner!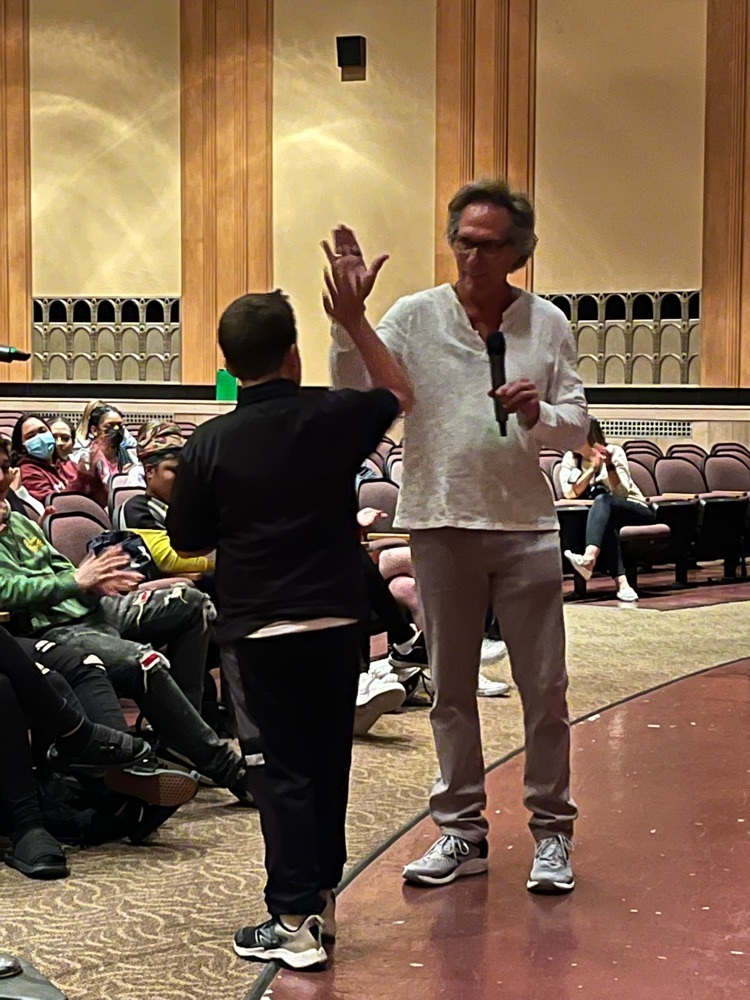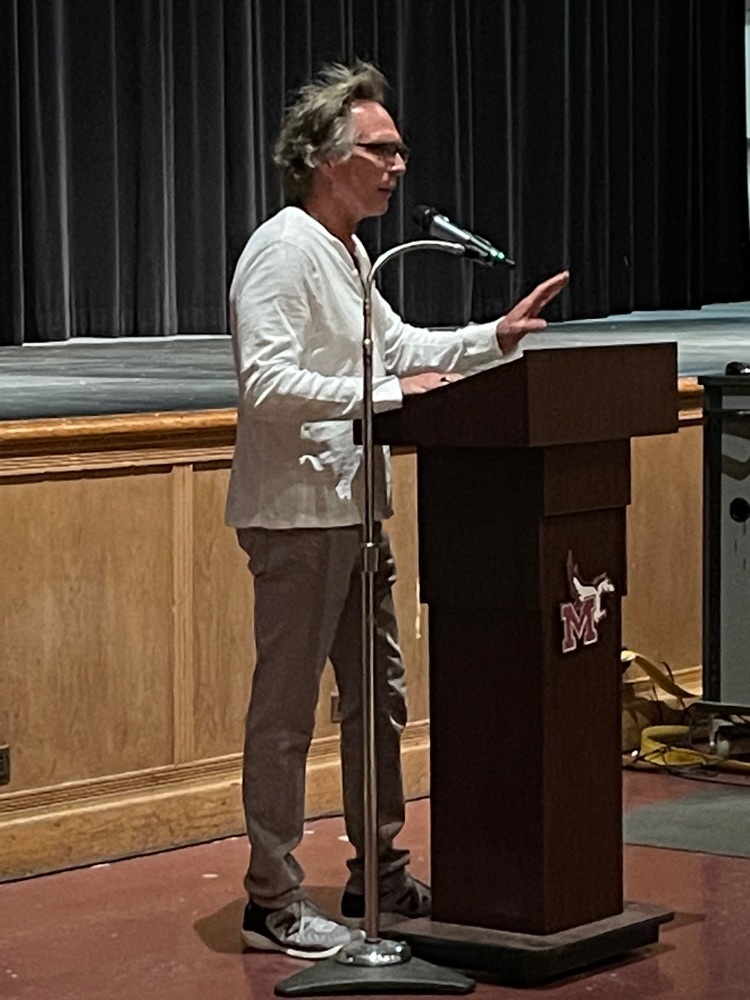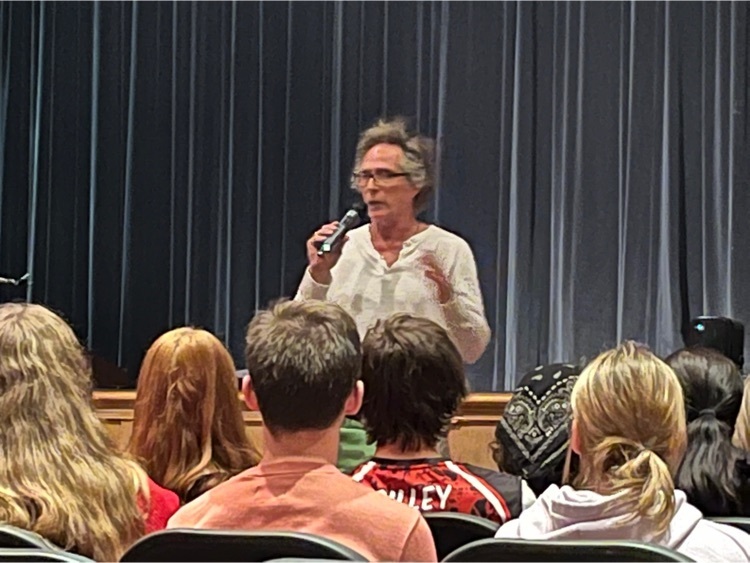 Dear Maryvale Community, The High School administration received a report during dismissal today that a student was in possession of what appeared to be a weapon. Upon initial investigation, there was an Airsoft found on a bus after a Middle/High School run. Officer Scapillato took possession of the Airsoft and a full investigation has already begun. We take these matters very seriously and we will not tolerate anything that could pose a potential risk to students and staff. I am informing you of this so that you know the facts as we know them right now and also so that rumors do not start to circulate. Please know that we are always vigilant and we will always fully investigate reports brought to us by students, staff and parents. We need you to be vigilant as well. So, as a reminder, if anyone is aware of information that could lead to any type of danger to students, staff or our school community, we need you to tell a trusted adult at school or any school administrator so that we can follow up to ensure the safety of our school community. Thank you, Joseph D'Angelo Superintendent

Dear Maryvale Family, Our Varsity Football team has a home playoff game this Thursday evening (10/27/22) at 6PM against Burgard. Because it is a playoff game, Section VI is responsible for selling tickets. Fans can pay $10 at the door or pre-buy digital tickets for $7 at this link:
https://gofan.co/app/events/748915?schoolId=NYSHSAAVI

Congrats to Flyers Head Coach Nick Todaro on earning Buffalo Bills-ADPRO Sports High School Coach of the Week honors!