https://sideline.bsnsports.com/schools/new_york/buffalo/maryvale-high-school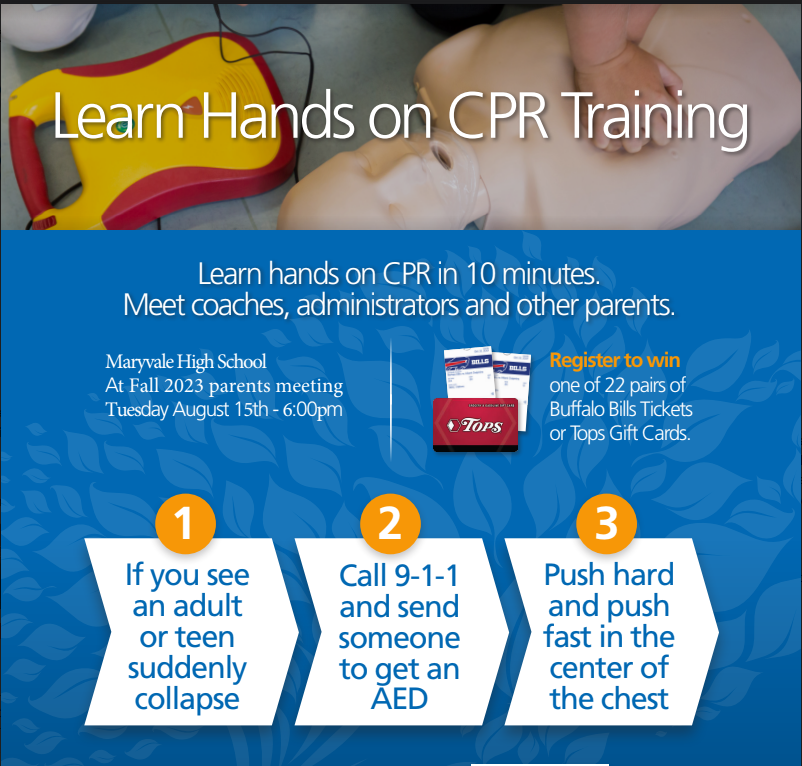 On August 15th at 6pm the Athletic Department will be hosting a Parent, Athlete and Coaches meeting. This will be held in the high school auditorium. Parents and athletes will receive an overview of the expectations of the upcoming season along with an opportunity to meet with the coaches. We have also partnered with UB to provide parents to be trained in Hands On CPR on this night. Everyone who participates will be entered into a drawing for a pair of Buffalo Bills tickets.
A reminder that 2023 fall sports registration is currently open. Fall registration will close on June 16, 2023. The high school nurse will have the following date reserved for physicals:
August 7, 2023
8:15 am -11:00 am
Please contact the High School Nurse, (716) 631-7483, to schedule an appointment for fall sport physicals. The Fall Sports Sign Up link is posted on the Maryvale Athletic webpage. Please register your son or daughter for which sport they would like to try out for.
Maryvale Athletics Link:
https://www.maryvaleufsd.org/o/mhs/page/athletics
FamilyID Fall 2023 Registration Link:
https://www.familyid.com/maryvale-ufsd-athletics/maryvale-fall-athletics-2023
If you have any questions or concerns please contact the Athletic Office at (716) 631-7418.
Fall 2023 Season Start Dates
Varsity/JV Football - 8/19/2023
Varsity/JV Sports 8/21/2023
Modified Sport Start Date:
Modified Football 8/24/2023
Modified Sports 8/28/2023
Physical Date 8/7/2023
** By Appointment with High School Nurse
Any middle school student looking to try out for JV/Varsity teams must pass the APP Test
(ATHLETIC PLACEMENT PROCESS). Please contact the Athletic office to reserve a spot for testing. Testing will be conducted on August 15, 2023.
Sports Registration on FamilyID
FamilyID (www.familyid.com). FamilyID is a secure registration platform that provides you with an easy, user-friendly way to register for our programs, and helps us to be more administratively efficient and environmentally responsible. When you register through FamilyID, the system keeps track of your information in your FamilyID profile. You enter information only once for each family member for mutliple uses and multiple programs.
FamilyID Sports Registration
FALL REGISTRATION WILL OPEN ON
FALL SPORTS REGISTRATION WILL CLOSE . June 16, 2023
PLEASE CLICK THE LINK BELOW TO REGISTER YOUR CHILD
Ms. Sherry Pruchnowski, Athletic Secretary
Ms. Sherry Pruchnowski
(716)631-7418